How to use homeAR to give your sales teams an advantage from the very first interaction
In our last post we talked about how homeAR can play a key role in elevating your social media presence in 2023, to help bring more quality buyers into contact with your brand. In this post we touch on how homeAR can give your sales team an advantage in the race to win the battle of first impressions.
A vast amount of a builder's marketing budget is spent on paid search and listings to generate new leads for their sales teams. Yet where the battle for the hearts and minds of the buyers is so often fought is those initial touchpoints where they come into contact with your online and on-site sales teams.
Inbound Inquiries: Responding with impact
When buyers ask for more information on available homes or plans, they give us a brief opportunity convince them we can tick all their boxes.

By including links to your plans in homeAR in your initial follow-up, you not only provide buyers a powerful way to satisfy themselves that you have a product to meet their needs, you also immediately set your buyer experience apart from other builders (it's also a great way to get them talking about you to their family and friends).
homeAR Magic Links can be sent via SMS, email, or any of your preferred messaging apps, giving buyers immediate access to dolls house (pictured ) and full scale viewing of your plans.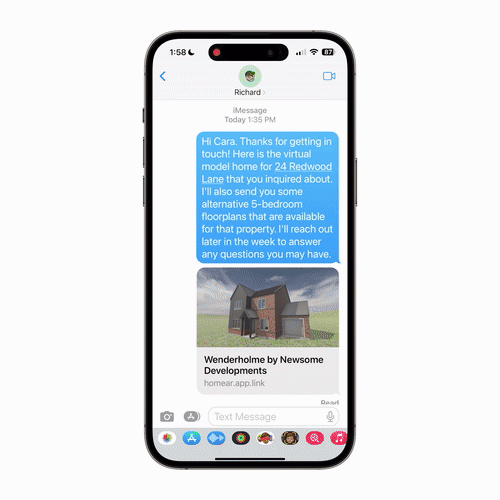 The First Meeting: An experience to set you apart
No matter where the first meeting with a new client takes place - the showhome, your buyer's living room or on site - having your portfolio of plans available in homeAR means your sales team always has them ready to set the buyer journey off to the best possible start.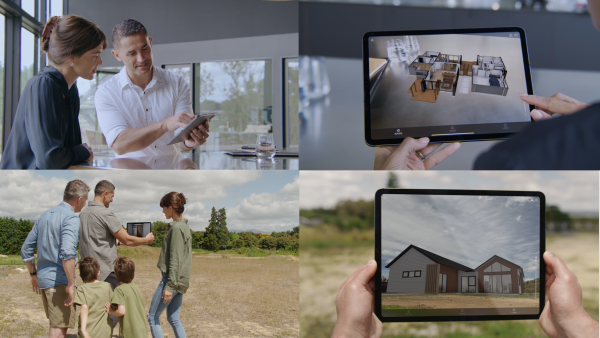 Show buyers through the plans and options you have available - on your land or theirs - in an impactful and distinctive way

Demonstrate floorplans and features in full-scale walkthrough, to help buyers narrow their selections and progress their decisions

Provide your homeAR plans as an interactive take-away so buyers can continue their evaluations after the meeting - either in dolls house or full scale viewing.
Bonus Tip: Sending your Virtual Model Homes is a great way to engage out-of-town buyers who can't visit your Model Homes.